This Copycat Olive Garden Salad recipe is a copycat of the restaurant favorite with lettuce, tomatoes, olives, onion and croutons, all tossed with a creamy Italian dressing.
Whenever I go to Olive Garden, I order their minestrone soup, chicken scampi and of course have a generous helping of their famous salad. In my opinion, this homemade version is even better than what you'd get at the restaurant.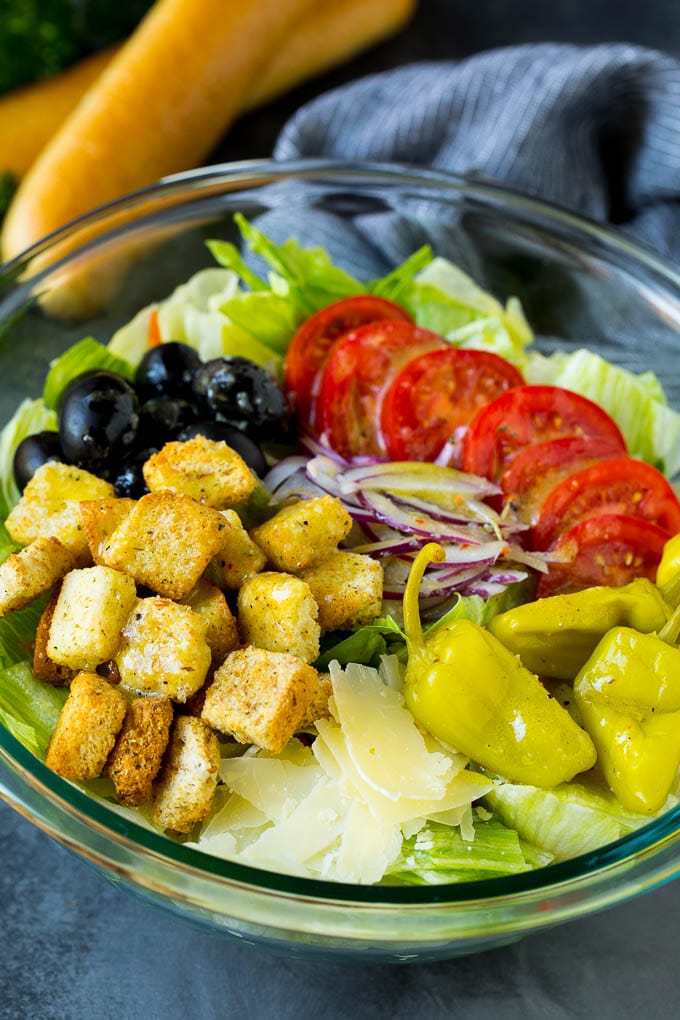 Olive Garden is a popular restaurant for good reason – who can resist all those hearty, cheesy Italian food options? My favorite part of eating at Olive Garden has to be the soup and salad. I've learned to make this salad at home, and it happens to be quite simple to make!
HOW DO YOU MAKE OLIVE GARDEN SALAD?
This recipe starts with a bag of iceberg lettuce mix, which contains the lettuce along with carrots and little red cabbage. The lettuce goes into a bowl along with tomatoes, olives, pepperoncini, red onion, croutons and parmesan cheese. The final step is to pour your homemade dressing over the top, toss, then serve.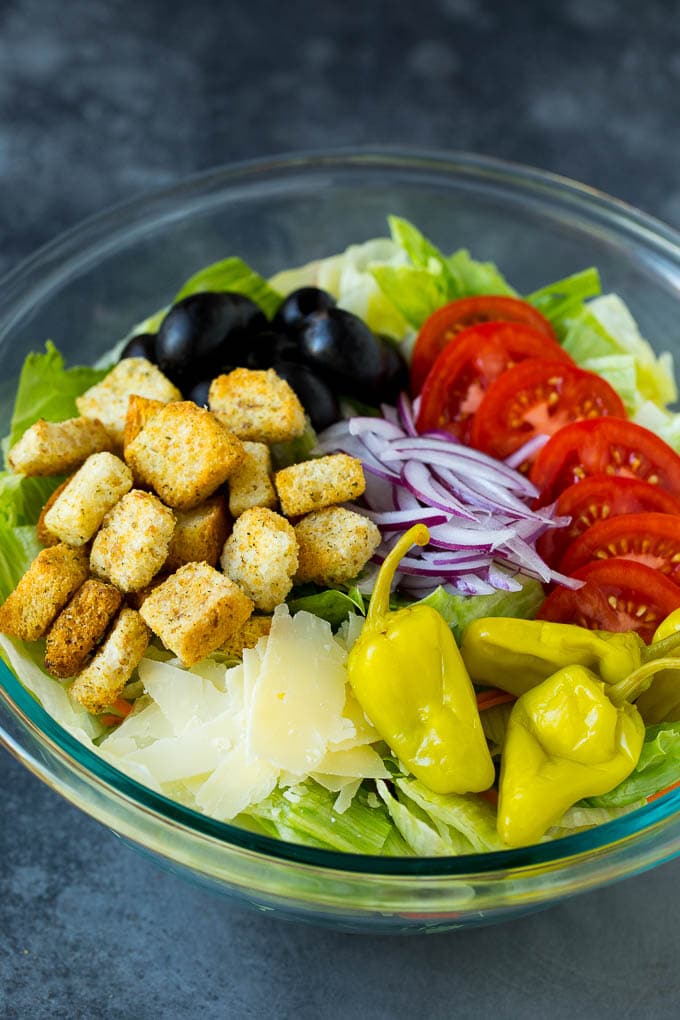 TIPS FOR THE PERFECT SALAD
It's most convenient to buy a bag of pre-prepared iceberg lettuce mix, but you can cut your own lettuce if you prefer, and mix it with 1/4 cup shredded carrots to get the same effect.
I use a mandolin to thinly slice my red onions for this recipe.
The dressing recipe makes enough for 2-3 day's worth of salads. You can store any leftover dressing in the fridge for up to 5 days.
I like to use shaved parmesan in this recipe because it stands up well to the other ingredients and the dressing, but at the restaurant they often use grated cheese. You can use whichever variety you prefer.
This salad is best served immediately as the croutons will soften as they sit in the dressing.
If you're looking to assemble the salad in advance, you can prepare the dressing 3 days before you plan to use it. Place your lettuce in a bowl along with all the other salad ingredients except for the croutons. Cover and refrigerate for up to 6 hours. Add the croutons and dressing just as you're ready to serve the salad.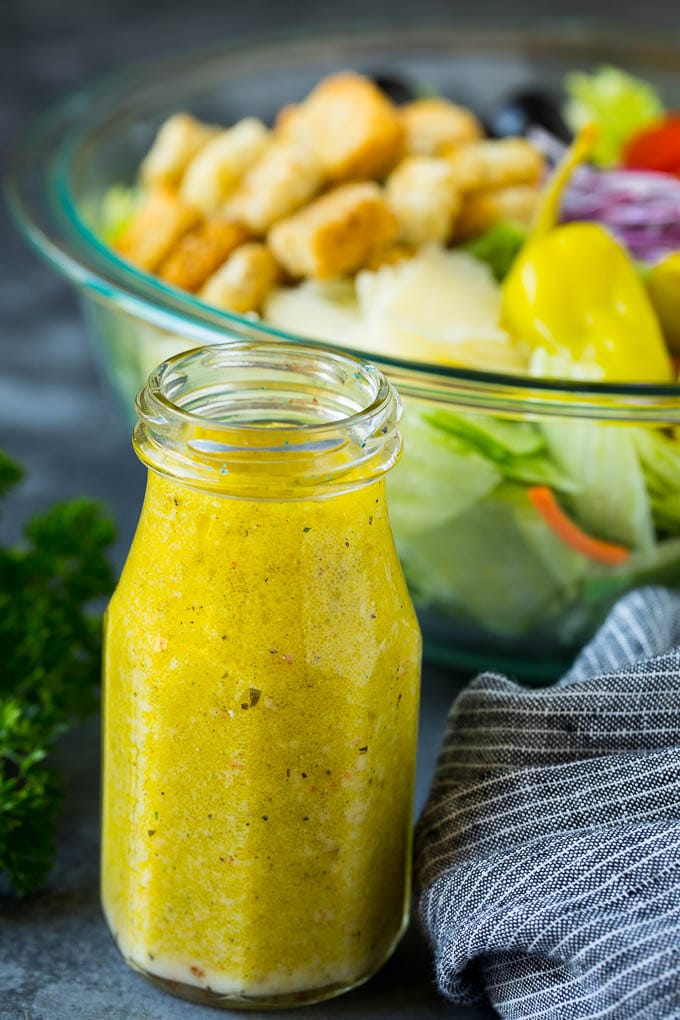 OLIVE GARDEN SALAD VARIATIONS
This salad is the classic version that you'd get at the restaurant, but sometimes I like to add other ingredients to the mix to make it even more special.
Protein: Top your salad with grilled chicken, shrimp or steak to turn it into a main course.
Vegetables: I like to add other vegetables such as roasted red peppers, marinated artichokes and cucumbers.
Beans: Try adding 1/2 cup of canned chickpeas or white beans to your salad.
Cheese: Add some mini mozzarella balls or cubes of fontina cheese for a fun twist.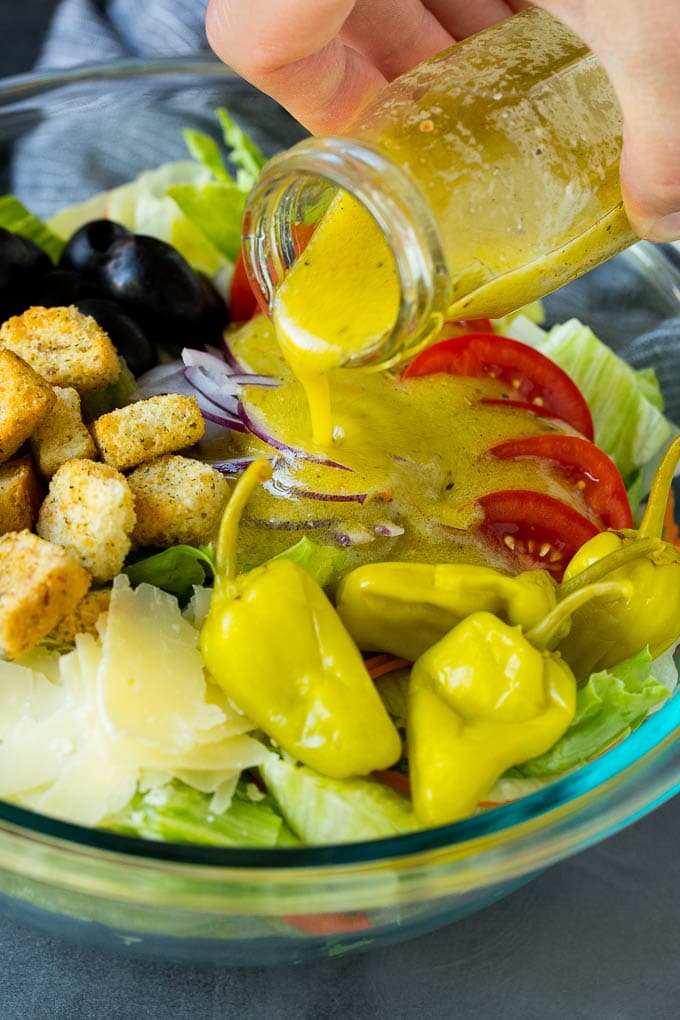 OLIVE GARDEN SALAD DRESSING
Olive Garden salad dressing has a fairly long ingredient list, but it comes together in just minutes. The base of this dressing is a packet of Italian dressing mix, which is blended with olive oil, vinegar and plenty of seasonings. A bit of mayonnaise adds a creamy texture. I make a bottle of this dressing at the beginning of the week and pour it over salads all week long.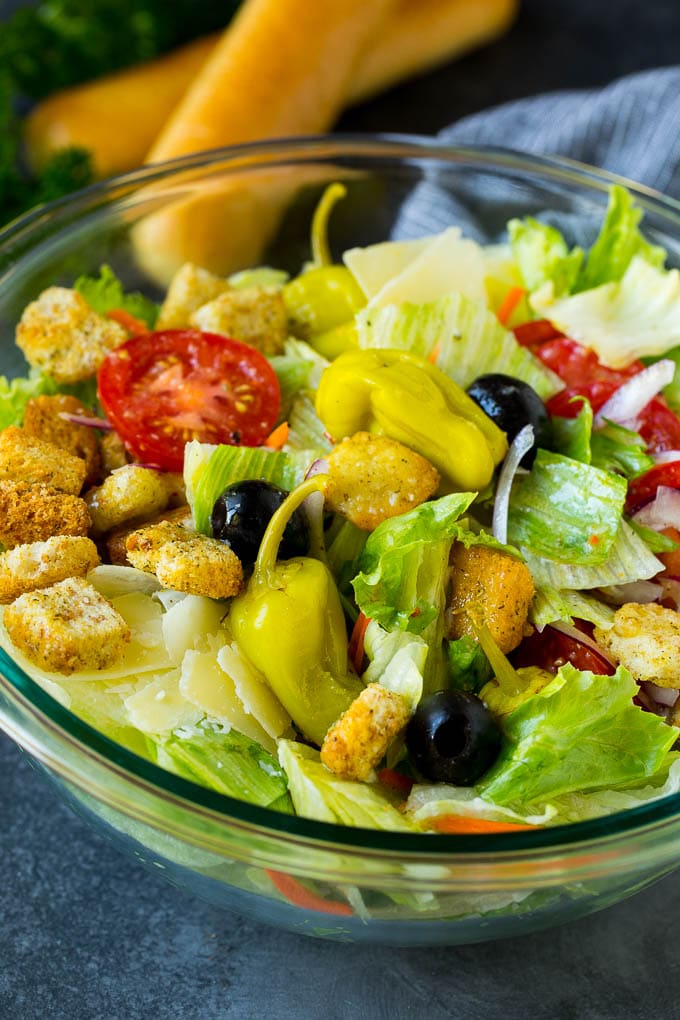 There's no need to set foot in Olive Garden when you can make this legendary salad in the comfort of your own home!