Baked Honey Mustard Chicken is a no-fuss, one-pan-meal OR you can just bake the chicken – either way, this Honey Mustard Chicken is destined to become a go-to chicken dinner favorite! The chicken breasts emerge outrageously juicy from a quick brine and then are slathered in a spice rub and smothered in the BEST homemade honey mustard sauce – no boring, one note Honey Mustard Chicken here! The potatoes and green beans are tossed with salt and pepper then seep up the honey mustard drippings of the succulent baked chicken. You can prep the entire dinner ahead of time then refrigerate and bake for all those busy weeknights. Did someone say winner, winner chicken dinner?
This Honey Mustard Chicken was an instant winner at our house. In fact, I made it twice in one week to perfect the recipe and it was gobbled up with pleasure both times. It joins the ranks of my other popular one pan meals such as my Lemon Garlic Butter Shrimp and Asparagus, Chili Dijon Pork with Potatoes and Green Beans, and Garlic Herb Chicken and Potatoes (see more here) – you just can't beat cooking your protein and veggies/sides in one pan!
This easy, lazy day Honey Mustard Chicken uses pantry friendly ingredients to deliver a sweet and tangy one pan feast. That being said, if you don't have green beans or potatoes on hand, or would rather serve your Honey Mustard Chicken with something else, you can skip the vegetables entirely and just bake the Honey Mustard Chicken. Just promise you'll make this Honey Mustard Chicken because I guarantee it will be love at firsts bite!
WHAT MUSTARD IS BEST FOR HONEY MUSTARD SAUCE?
Mustard is made by mixing and/or grinding the seeds of the mustard plant with liquid. We get different types of mustard depending on what seed and liquid is used. I like to combine the following three different mustard to create a dynamic honey mustard sauce for this Honey Mustard Chicken:
Dijon Mustard: made from fine ground hotter brown or black mustard seeds and white wine which give it a sharp, pungent flavor with a little heat.
Stone Ground Mustard: mustard usually made with the hotter brown or black mustard seeds like Dijon mustard but the seeds are only partially ground down, leaving some whole, to create a thick paste. Stone Ground mustard is typically robust and sharp in flavor.
Yellow Mustard: a mild, smooth mustard made from fine ground yellow mustard seeds and turmeric for a clean mustard taste.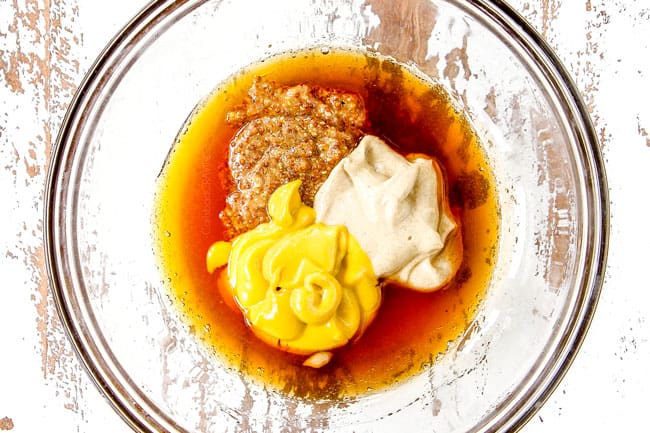 HOW DO YOU MAKE HONEY AND MUSTARD SAUCE?
There are many different combinations for honey mustard but my favorite is a quick whisking of:
1/3 cup honey
2 tablespoons Dijon mustard
2 tablespoons stone ground mustard
2 tablespoons yellow mustard
Each type of mustard offers its own varied mustard flair for multi-dimensional flavor. If you taste the Honey Mustard Sauce just on its own, it might taste a little sweet, but when it envelops the chicken bursting with spices, it becomes a mesmerizing sweet and tangy combo.
You can make the Honey Mustard Sauce up to 1 week ahead of time and store in an airtight container in the refrigerator until ready to use.
CAN I SUBSTITUTE DIJON OR STONE GROUND MUSTARD?
If you don't typically stock Dijon, Stone Ground and Yellow Mustard, then you can just use yellow mustard plus either Dijon or Stone Ground and use half of each (3 tablespoons each). For example, you can use half yellow mustard (3 tablespoons) and either half Dijon or half Stone Ground (3 tablespoons).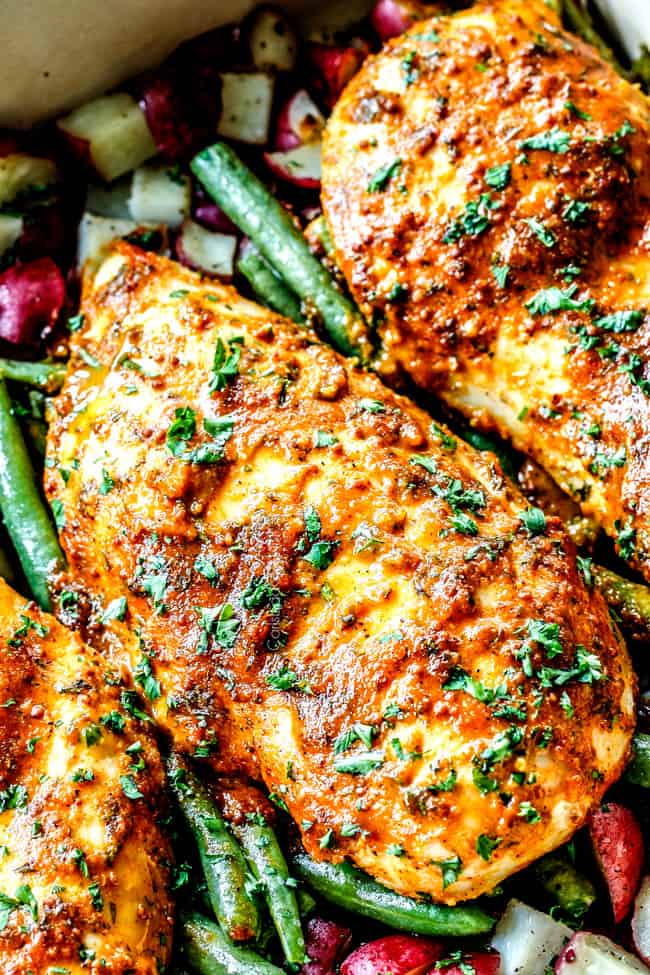 HOW TO MAKE CHICKEN JUICY?
When we think juicy chicken, we usually think juicy thighs – BUT you can transform your chicken breasts into the JUICIEST part of the chicken with a 15 minute brine!
You are probably familiar with brining a turkey, (and I always brine all my pork tenderloin), but brining chicken breasts will change your life! Instead of dry, tough chicken, brining produces perfectly tender, juicy chicken, every single time without having to prep and plan ahead with a marinade.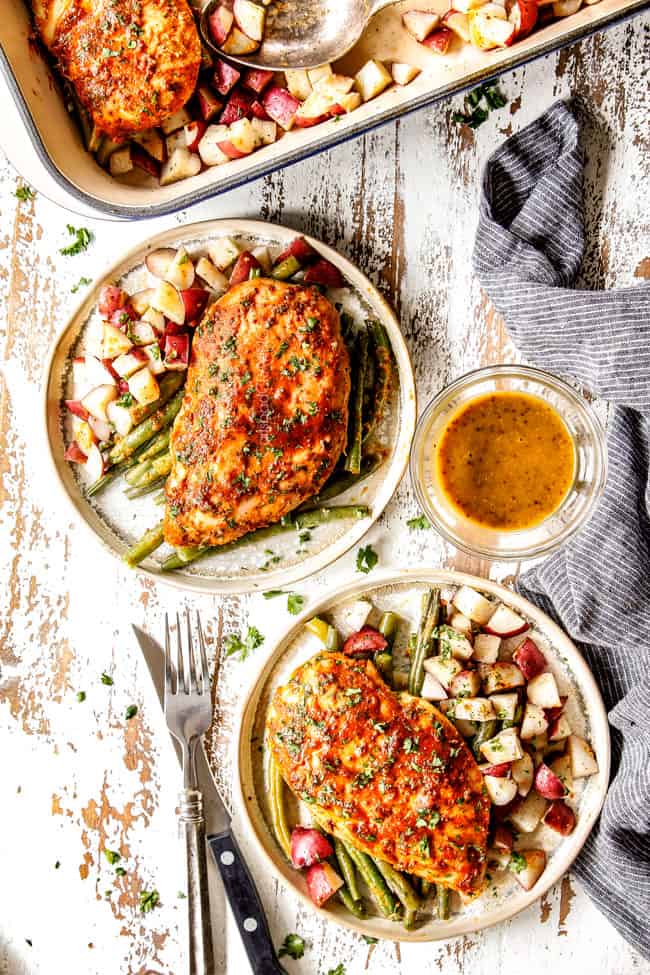 To brine chicken, all you do is mix kosher salt with warm water and add your chicken for 15-30 minutes. The salt increases the moisture capacity of the chicken by breaking down the proteins so they can no longer contract when cooking. This means less water will be squeezed out and lost, resulting in juicier chicken. Another plus of brining is the chicken sits at room temperature which makes for more even cooking. Winning!
Just a quick note about brining – Do NOT use table salt in your brining solution, only kosher salt. Table salt will make your chicken too salty.
Okay, now that you know how to make the juiciest chicken are you ready to make the juiciest Honey Mustard Chicken of your life?!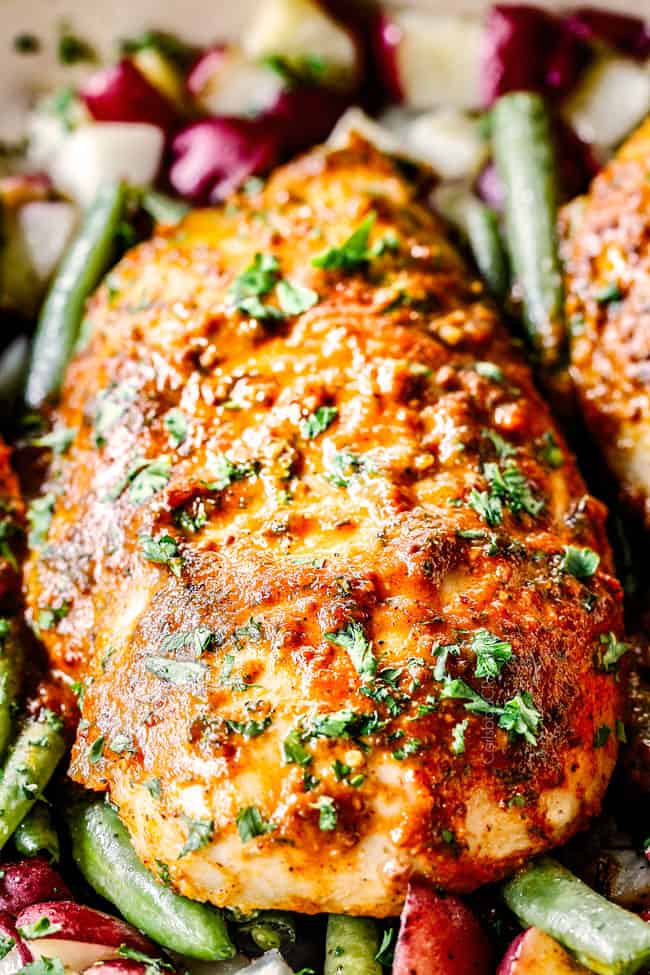 HOW DO YOU MAKE HONEY MUSTARD CHICKEN?
You can just bake the Honey Mustard Chicken and omit the green beans and potatoes if you prefer and go straight to step 3.
Step 1: PotatoesAdd potatoes to a microwave safe dish with enough water to fill 1/4" up the sides. Cover, and microwave for 6 minutes. Drain water and add potatoes to a lightly greased 9×13 baking dish. Par-boiling the potatoes ensures they will all be cooked when the chicken is done otherwise they will cook unevenly because they are stacked on top of each other.Toss the potatoes with olive oil, salt and pepper then divide them in half and push to the sides of the pan, making room for the green beans down the middle.
Step 2: Green Beans
While the green beans are on still on the cutting board, toss with olive oil, salt and pepper. Each element of a dish should be seasoned so it is independently delicious and exponentially delicious all together.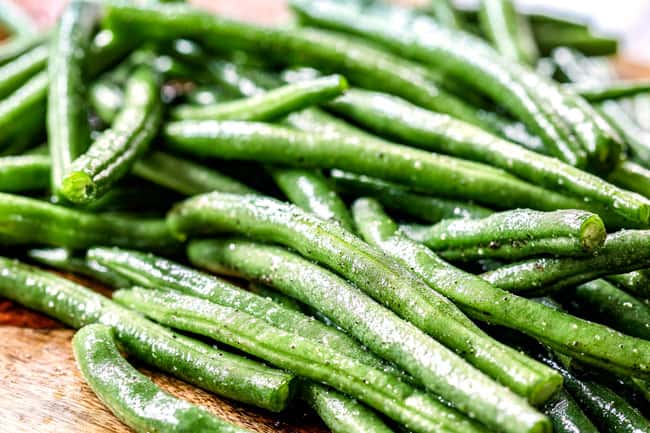 Line the green beans down the center of the pan in between the potatoes – they will not be in a single layer but slightly overlapping.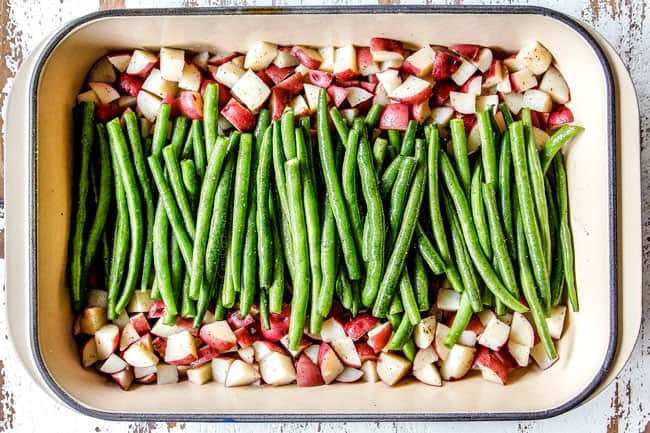 Step 3: Chicken
Add 1 tablespoon olive oil and all "chicken seasonings" to a large bowl and stir together to make a wet rub. Add chicken and massage the spices into the chicken with your hands. While the chicken is still in the bowl, coat both sides of the chicken evenly in the Honey Mustard Sauce. Transfer chicken to baking dish, and spoon over any remaining sauce/spices from the bowl.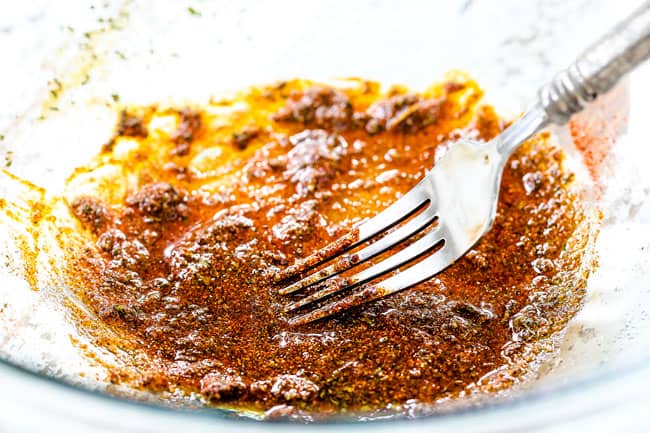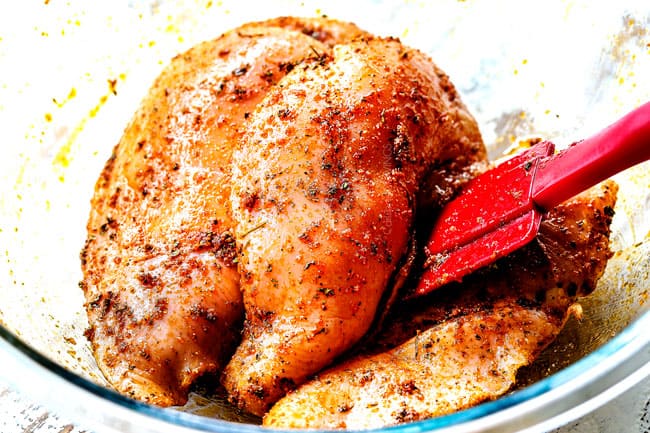 Step 4: Bake
Cover Honey Mustard Chicken, green beans and potatoes with foil and bake at 400 degrees for 25 minutes. Uncover and bake an additional 10-20 minutes OR until chicken is cooked through (an instant read thermometer should register 165 degrees F, cooking time may be more or less depending on thickness of chicken). Brush chicken again with Honey Mustard Sauce.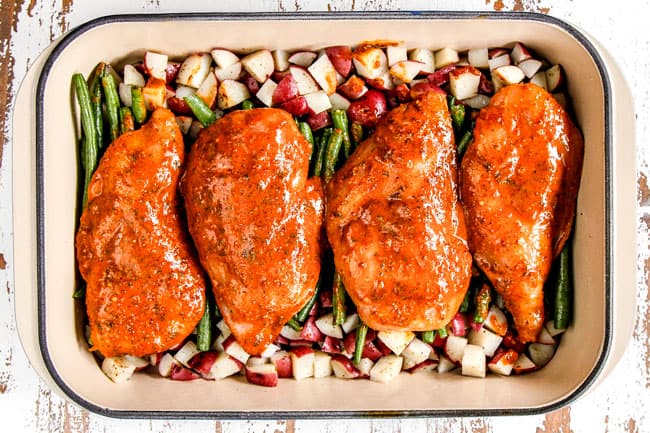 Step 5: Rest
Let chicken rest 5-10 minutes before slicing so the juices that have been pushed to the outside of the chicken while baking can be redistributed and reabsorbed.
HOW LONG DOES IT TAKE TO BAKE CHICKEN?
This Honey Mustard Chicken takes anywhere from 25-40 minutes to bake depending on the size and thickness of your chicken breasts. I highly recommend investing in a meat thermometer otherwise there is no accurate way to check and see when your chicken is cooked without slicing it open and loosing valuable juices.
When checking the temperature of the chicken, make sure you insert the thermometer at the thickest part of the meat. The safe internal temperature for cooked chicken breasts is 165 degrees F, so I usually bake it to 160 because it will continue to bake at least to 165 as it rests for 10 minutes.
HOW DO YOU MAKE HONEY MUSTARD CHICKEN THIGHS?
I chose boneless, skinless chicken breasts because they are leaner but emerge unbelievably juicy with a brine, but you are welcome to use chicken thighs if you prefer. You do not need to brine chicken thighs.
To make Honey Mustard Chicken with chicken thighs, you can use either bone in, or boneless chicken thighs, but be sure to remove the skin otherwise the chicken and potatoes will be swimming in grease. I also recommend searing the chicken thighs before adding to the potatoes and green beans to render some of the fat and to give the chicken even more flavor.
Honey Mustard Chicken Thighs, Bone In:
Remove skin from chicken thighs.
Rub with spices according to directions.
Sear for 3-5 minutes per side until golden then coat in 1/4 cup Honey Mustard Sauce.
Place Chicken thighs on top of green beans.
Cover and bake at 400 degrees F for 40 minutes, remove foil. Check for doneness then continue to bake uncovered an additional 10-15 minutes if needed or until chicken is cooked through and registers 175 degrees F.
Honey Mustard Chicken Thighs, Boneless
Remove skin from chicken thighs.
Rub with spices according to directions.
Sear for 3-5 minutes per side until golden then coat in 1/4 cup Honey Mustard Sauce.
Place Chicken thighs on top of green beans.
Cover and bake at 400 degrees F for 20 minutes, remove foil and check for doneness. Continue to bake, uncovered, an additional 5-10 minutes if needed OR until cooked through.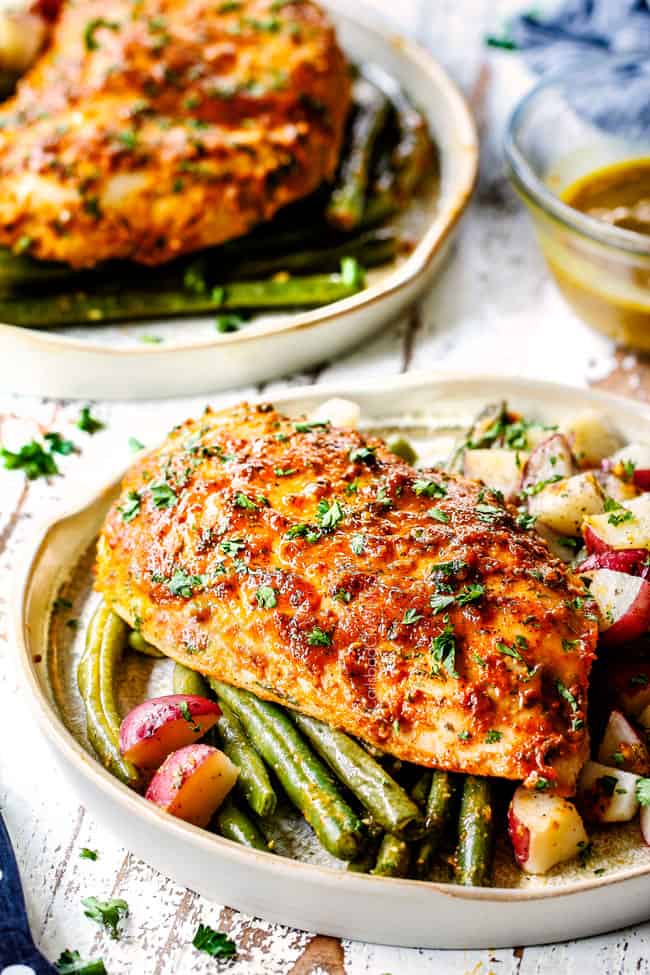 HOW DO YOU MAKE HONEY MUSTARD GRILLED CHICKEN?
This Honey Mustard Chicken is so tantalizing you are going to want to make it in every form! To make Grilled Honey Mustard Chicken:
Brine chicken breasts according to directions.
Grease and preheat the grill to medium heat, 375-450°F.
Rub chicken with spices according to directions then coat in 1/4 cup Honey Mustard Sauce.
Grill chicken over direct heat undisturbed for 5-7 minutes per side, or until chicken is cooked through (An inserted thermometer should read 165 degrees F).
Remove chicken to cutting board and baste additional Honey Mustard Sauce. Let rest 5 minutes before slicing.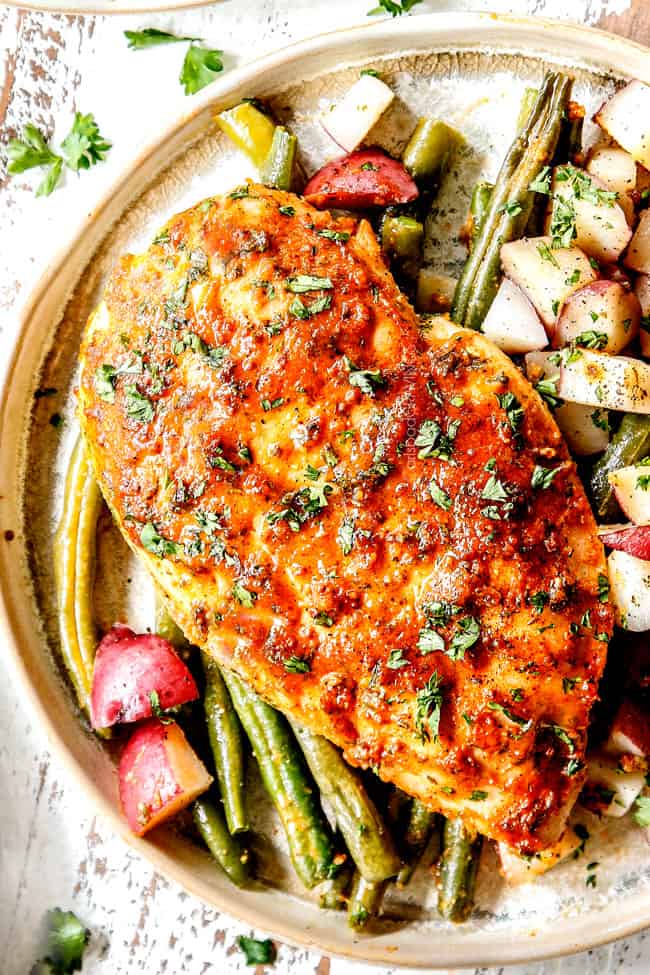 CAN I MAKE HONEY MUSTARD CHICKEN AHEAD OF TIME?
Yes! You can completely assemble the Honey Mustard Chicken with the potatoes and green beans up to the point of baking, cover tightly and refrigerate. Cover and refrigerate the unused Honey Mustard Sauce separately.
When ready to bake, either let the dish sit at room temperature for 30 minutes (preferable) or be prepared to add an extra 10 minutes or so to the baking time.
WHAT SIDE DISHES GO WITH HONEY MUSTARD CHICKEN?
This Honey Mustard Chicken really is a meal-in-one but that doesn't mean we can't add more! I like to serve it with: