Use Olive Garden Italian Dressing to make this Slow Cooker Olive Garden Chicken Pasta! It's a creamy pasta dish that has so much flavor.
We love easy pasta dishes for the crockpot! Try my Baked Spaghetti or my Beef Stroganoff recipe too!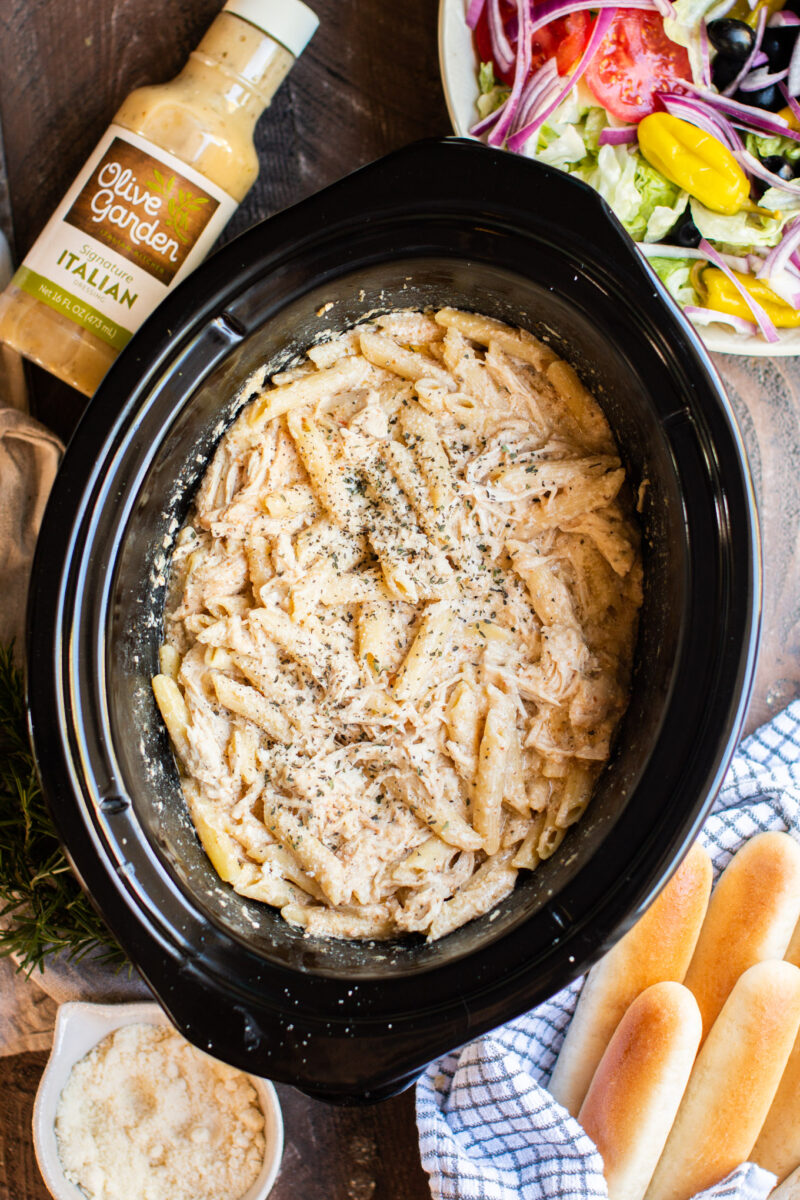 I found this recipe in my Facebook group and had to try it out! You can make this Olive Garden Chicken with or without the pasta! Serve over rice or just with green steamed vegetables.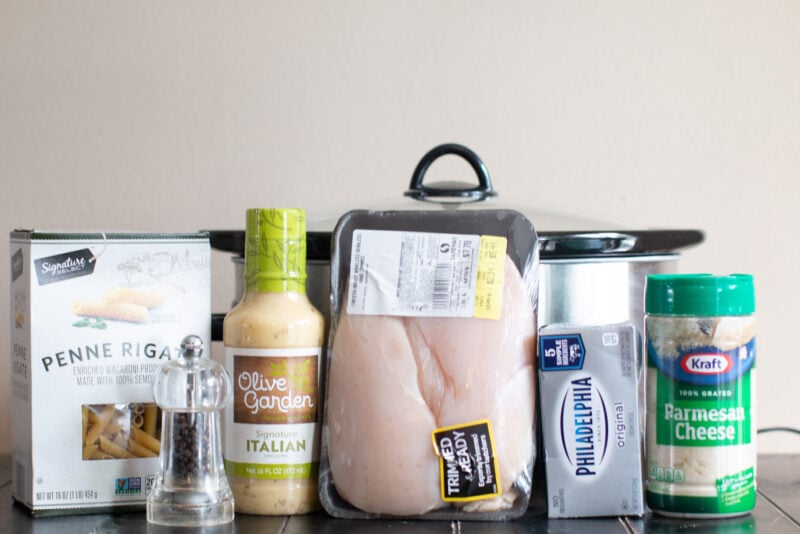 How to make Olive Garden Chicken Pasta in the Crockpot:
Add chicken breasts to the slow cooker.
Pour over one 16-ounce jar of Olive Garden Italian Dressing (or any Italian dressing you have on hand.
Shake over grated parmesan cheese and ground pepper. Add one block of cream cheese.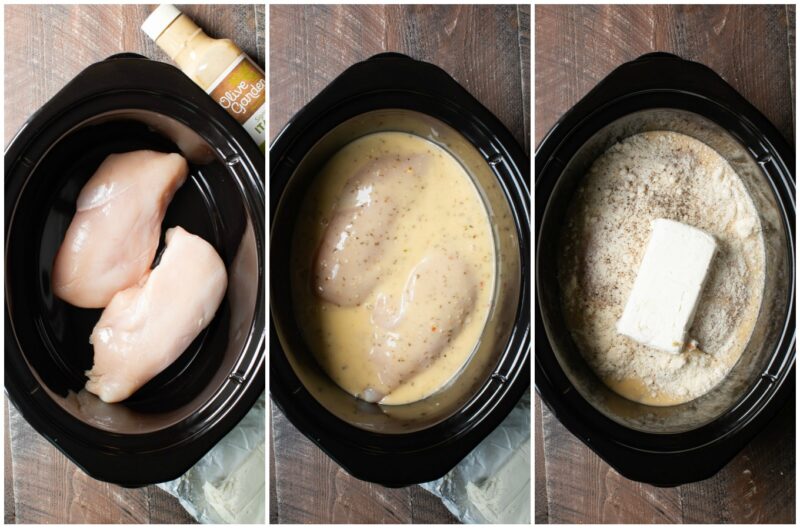 Place the lid on the slow cooker and cook on HIGH for 4 hours or low for 5-6.
Shred the chicken with two forks right in the slow cooker.
Cook 16 ounces of pasta according to the package directions on the stove-top. I am using penne pasta for this recipe.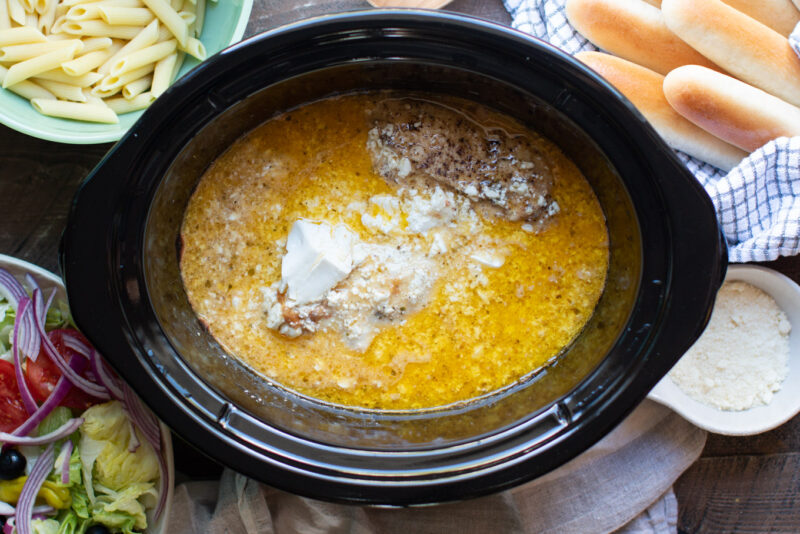 Add the drained pasta to the slow cooker along with the sauce and shredded chicken, stir.
Sprinkle over more parmesan cheese if desired. I also garnished with a touch of oregano and black pepper.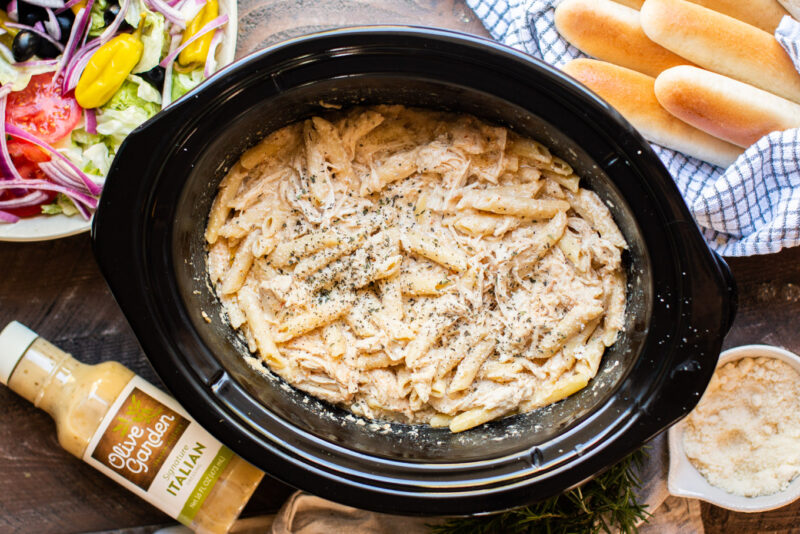 Can I serve this chicken with something other than pasta?
Serve over rice.
Or with steamed vegetables.
Must I use cream cheese?
You can leave it out or add a cup of heavy cream at the end of cooking time is desired. Though the sauce will be thinner.
Does this taste like chicken alfredo?
This Olive Garden Chicken Pasta is thick and creamy like alfredo but has a zesty Italian dressing flavor