With Cinco de Mayo around the corner, I thought it was time for the best Mexican Rice recipe!
Oh Mexican Rice, how do I love thee?!  Just like  Pico de Gallo , Homemade Salsa, Salsa Verde and Guacamole are Mexican staples served with every meal,  Mexican Rice can be found – or should be found – in a bed alongside all your Burritos, Carnitas, Fajitas, Enchiladas and Shrimp Tacos.  All too often, however, homemade versions are either bland, dry or mushy.  Not this Mexican Rice!
This easy Mexican Rice recipe is soooooo good, I couldn't stop eating it straight from the pot – and neither could Patrick. It is just the right consistency, flavorful without tasting overpowering and tastes like it came straight from your favorite Mexican restaurant. I guarantee you will be want to serve this Mexican rice with everything or nothing because it is addicting all on it's own!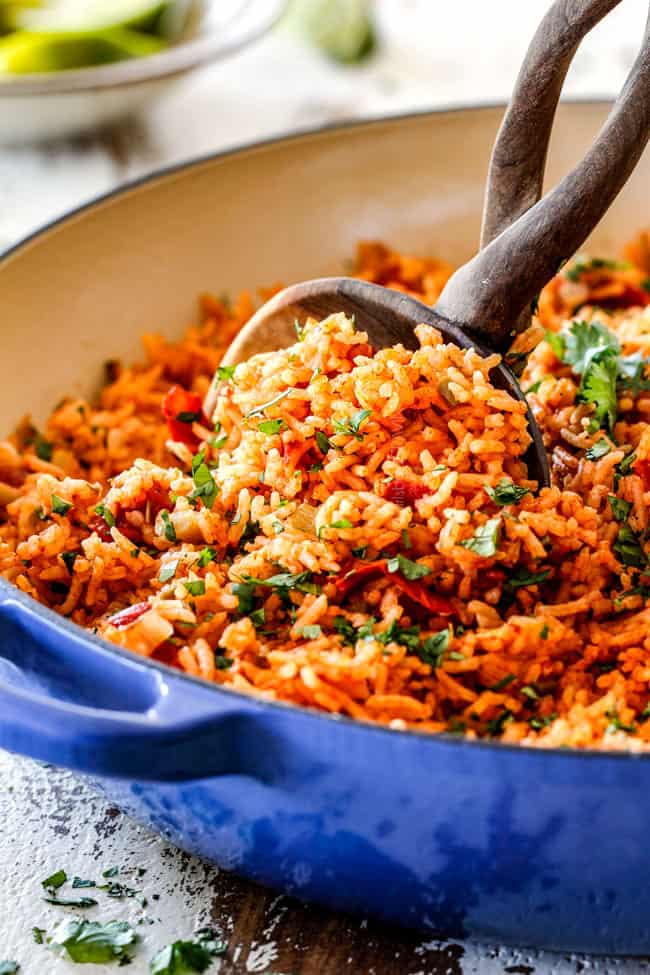 WHAT RICE IS BEST FOR MEXICAN RICE?
I highly recommend basmati rice for this easy Mexican Rice recipe for the same reasons I raved about it in my Greek Lemon Rice.  Not only does basmati boasts a light nutty flavor but basmati grains are long and slender like other white rices but they cook up lighter and fluffier.  The individual grains remain distinct when cooked instead of sticking together which means no more clumpy or mushy rice! Basmati Rice also reheats beautiful because of the distinctive grains so the rice remains just as fluffy on day 2!
MEXICAN RICE RECIPE INGREDIENTS
basmati rice: please use basmati rice for the best results. Other types of rice will likely stick together and can easily get mushy (see above section). Basmati rice is located with all the other rice varieties at your grocery store.
olive oil: use quality olive oil for the best flavor.
onion: 1/2 medium yellow onion will do the trick.
garlic: 3 minced garlic cloves.  Use more or less depending on your garlic love.
jalapenos: use 1-3 minced jalapenos depending on how spicy you want it. If you want it even spicier, reserve some of the jalapeno seeds and add them in after you taste the finished Mexican Rice.
chicken broth: please use low sodium broth so we can control the salt.
tomato sauce: one cup is used instead of broth for the signature tomato flavor.
fire roasted tomatoes:  boast a wonderful smoky flavor and are sweeter with less acidity than regular diced tomatoes.  Most grocery stores carry them but if you can't find them, then substitute regular diced tomatoes.  
canned mild diced green chilies:  make sure you purchase mild green chiles – I have accidentally used the hot chilies before and they are HOT!  Mild green chiles, however are more tangy than hot so you don't have to worry about them making your soup spicy.
tomato bouillon: come in cubes or a powder can be found in almost every grocery store for about $2.  They are located either next to the chicken bouillon (where I found mine) or in the Mexican food aisle.  Tomato bouillon is also delicious added to pastas so I promise it won't go to waste!
seasonings: ground cumin, chili powder, dried oregano, ground coriander, smoked paprika, and salt round out the flavor profile.
CAN I USE GARLIC POWDER?
You may substitute the fresh garlic with 1 teaspoon garlic powder.
CAN I USE ONION POWDER?
You may substitute the fresh onion with 1 teaspoon onion powder.
DO I HAVE TO ADD JALAPENOS?
Just one jalapeno will add flavor but will not make your Mexican Rice spicy so I don't suggest omitting. You may, however, substitute the jalapeños with some cayenne pepper or chipotle chile powder to taste.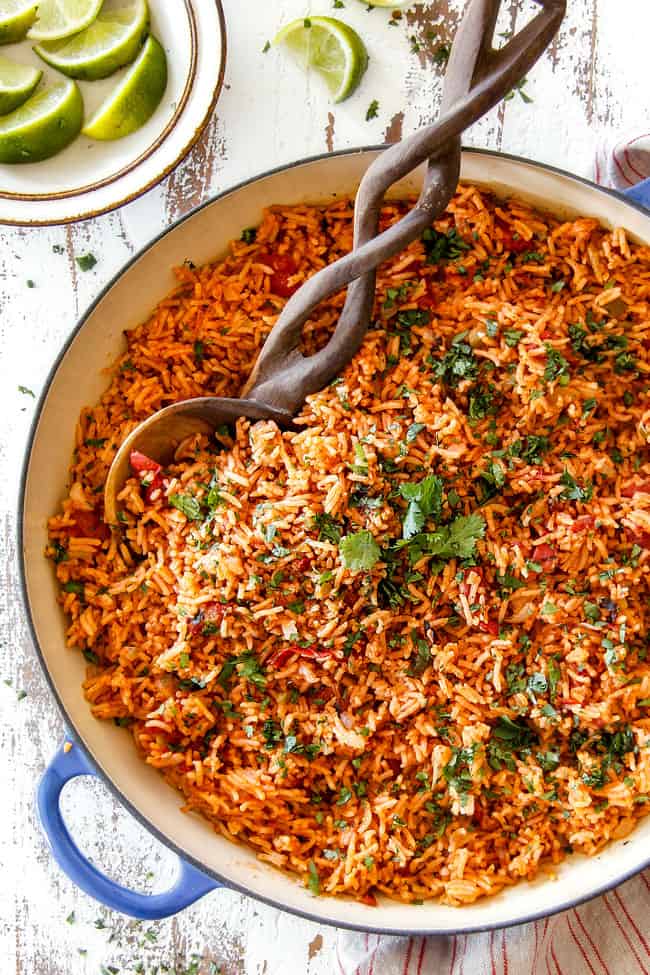 HOW TO MAKE MEXICAN RICE
Although Mexican Rice is very easy to make there are a few TIPS AND TRICKS to make the best Mexican rice:
Rinse and drain rice thoroughly. This is crucial to remove the extra starch from the rice so it doesn't cook up sticky and mushy. To rinse, place rice in a fine mesh sieve and thoroughly rinse rice under cool running water until the water runs clear.
Use basmati rice for best results. Other types of rice will likely stick together and can easily get mushy (see above section). Basmati rice is located with all the other rice varieties at your grocery store.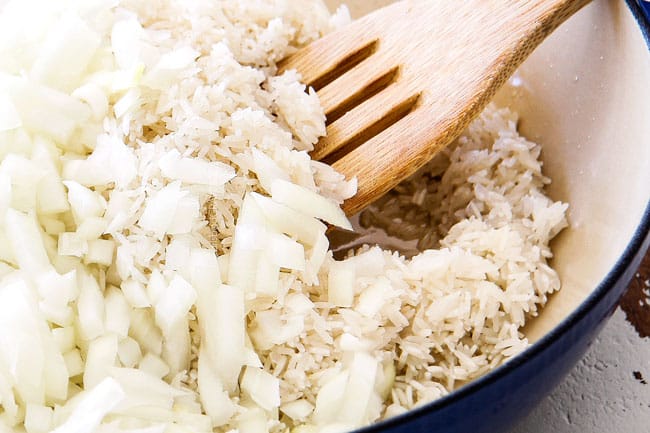 Sauté Rice until toasted. We start by sautéing our onions with our rice for 3 minutes then add our jalapenos and sauté until the rice is toasted. Toasting the rice with the onions and jalapenos not only infuses it with those flavors but helps develop the wonderfully nutty flavor. More importantly, toasting the rice helps the grains keep some of their texture after they are cooked. After toasting your rice, don't worry that the rice doesn't look like it's toasted evenly, we are just looking for some of the rice to be toasted indicating that that the flavor is developed.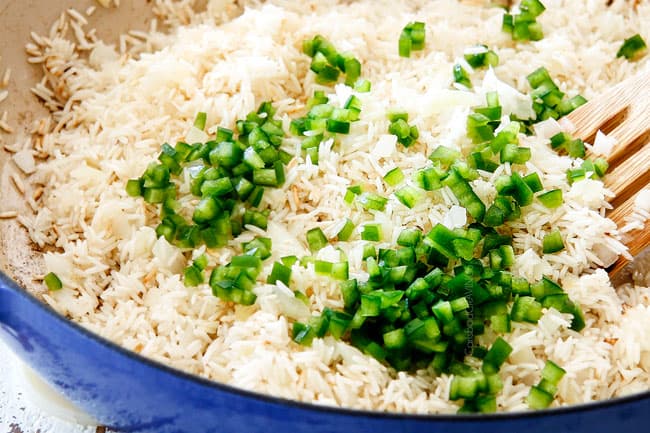 Stir in all remaining Rice ingredients.  Next, we stir in chicken broth, tomato sauce, fire roasted tomatoes, tomato bouillon cubes, chopped green chilies and all of our seasonings.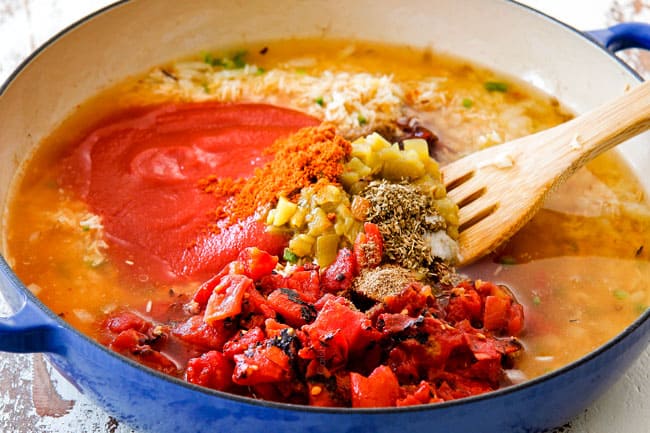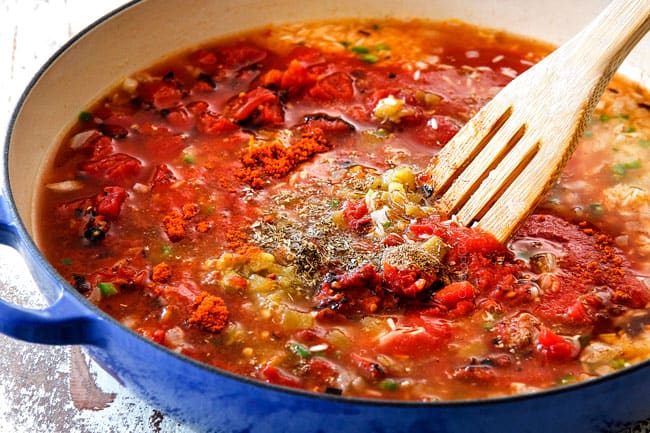 Tomato bullion cubes! Tomato bouillon are the secret ingredient to this Restaurant-Style Mexican Rice and are what turns the rice into that characteristic orange color. Tomato bouillon cubes or powder can be found in almost every grocery store for about $2. They are located either next to the chicken bouillon (where I found mine) or in the Mexican food aisle.
Boil until water evaporates. Next, bring the contents to a boil, cover, and reduce heat to LOW. Simmer 12-15 minutes, or until water is evaporated and rice is tender, stirring once at 8 minutes and replacing lid. Once the water is evaporated, the rice still might seem "wet" but this will take care of itself when we replace the lid and let it sit for 10 minutes.
If liquid evaporates before rice is done, then add just a little liquid, keeping in mind that the rice will continue to steam for 10 minutes once it's removed from heat, so it doesn't need to be 100% cooked once liquid is gone.
If rice is still wet, don't worry, it will continue to absorb the 10 minutes while it is steaming. When you remove the lid after 10 minutes, you can let the rice sit an additional 5-10 minutes to dry out.
Add lime juice to taste. Lime is optional but it adds a wonderful fresh, bright pop. You can also omit the lime and let each person customize their own rice if they prefer.
Cilantro to taste. You will notice we use both coriander and cilantro in this Mexican Rice recipe but they actually taste different even though they both come from the cilantro plant. Dried/ground coriander is the seed of the cilantro plant and tastes sweet, warm and toasty while whereas cilantro adds the fresh, fruity citrus punch. If you don't have coriander on hand you can omit it, I just think it adds a little "something-something" special
EASY MEXICAN RICE ALTERNATIVE
Often, I am lazy when it comes to sides, so if you want to eliminate all chopping and make this Mexican Rice strictly "dump and run" you can use the following substitutions:
Substitute the chopped onion with 1 teaspoon onion powder.
Substitute minced garlic with 1 teaspoon garlic powder.
Substitute minced jalapenos with pinch-1/4 teaspoon cayenne pepper.
HOW TO MAKE MEXICAN RICE IN THE RICE COOKER
You can easily adapt this Mexican Rice recipe for your rice cooker! Simply add all of the ingredients to your rice cooker EXCEPT the olive oil and onions. Omit the olive oil completely and replace the chopped onions with 1 teaspoon onion powder. Cook on the white rice setting.
CAN I PREP MEXICAN RICE AHEAD?
Yes! While this Mexican Rice recipe doesn't require much prep, you can still prep everything in advance so it can come together in minutes.
Chop aromatics. Chop your onions, garlic and jalapenos and store in separate airtight containers in the fridge.
Measure seasonings. Measure out all of the seasoning and store in a separate airtight container.
Rinse rice. Thoroughly rinse basmati rice and leave it in the strainer to dry.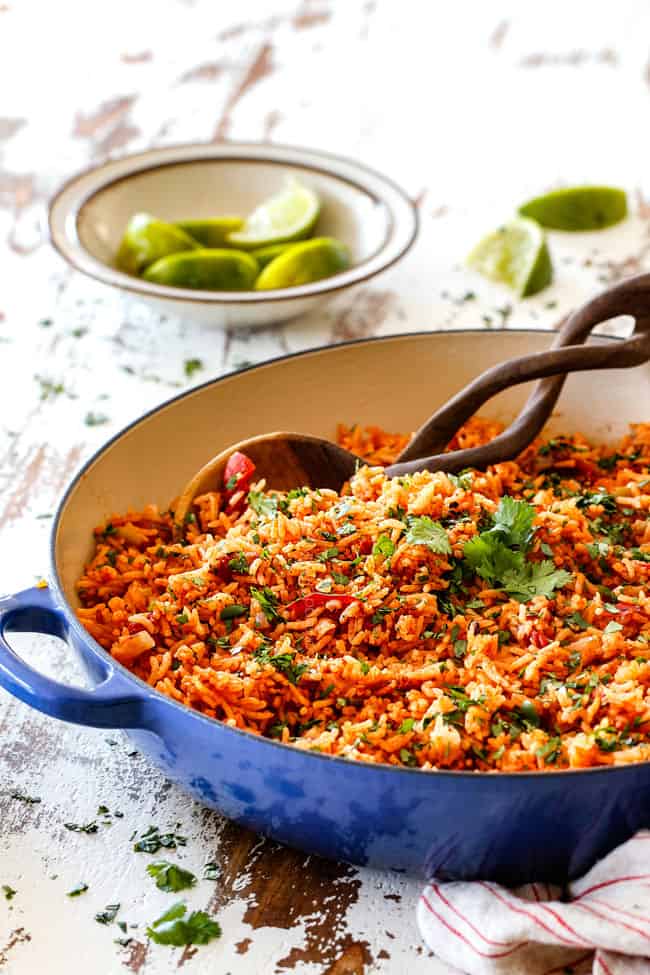 MEXICAN RICE AND BEANS
You can play around with this Mexican Rice recipe to make it your own whether it's adding more or less jalapenos, tomato bouillon, cilantro, lime or adding in any sort of veggies.
You can easily turn this Mexican Rice into Mexican Rice and Beans, just like I do with my Cilantro Lime Rice with Black Beans recipe.  Simply rinse and drain your beans thoroughly and add them to the pot when you add the chicken broth and simmer away.  You can use your favorite beans but I think black beans pair the best with this recipe.
MEXICAN RICE VARIATIONS
You can also add any sorts of veggies to your Mexican Rice. Often Mexican Rice is served with carrots, corn and peas. You will want anywhere from 1-2 cups veggies depending on your personal preference.
Mexican Rice with Carrots:  if using fresh carrots, dice them and add to the pot when you add the jalapenos.
Mexican Rice with Corn:  if using canned corn, rinse, drain and add to pot with chicken broth.
Mexican Rice with Peas:  use thawed, frozen, petite peas (never canned!) and stir them into your rice after it has cooked but before you recover and let sit 10 minutes.
Mexican Rice with Frozen Mixed Vegetables:  like the peas, if you use frozen, corn or carrots, stir them into your rice after it has cooked but before you recover and let the pot sit 10 minutes.  You can even buy frozen mixed vegetables with corn, peas and carrots for the easiest option.
Mexican  Rice with Protein:  instantly transform your Mexican Rice recipe into a meal-in-one by adding protein such as ground turkey, ground beef, shredded rotisserie chicken, chopped chicken,pork, shrimp, salmon/other fish.
HOW TO STORE & REHEAT MEXICAN RICE
This Mexican Rice recipe stores beautifully! The extra time allows the flavors to build and meld even further.
Refrigerate: Let Mexican Rice cool to room temperature then transfer to a tightly covered airtight container or to several small containers for meal prep. Store in the refrigerator for 4 to 5 days.
Microwave: For small portions, microwave rice in a microwave safe container with a couple teaspoons water for 60-90 seconds or until warmed through.
Stove: For larger portions, transfer Mexican Rice to a nonstick skillet along with a dash of water or chicken broth. Heat over medium heat, stirring often until warmed through.
HOW TO FREEZE EASY MEXICAN RICE
This easy Mexican Rice can also be frozen:
Let the rice cool completely before transferring to a freezer bag (recommended) or freezer-safe airtight container. If using a bag, squeeze out as much excess air as possible to prevent freezer burn.
Label and freeze for up to 3 months.
Let rice defrost overnight in the refrigerator.
Reheat in the microwave or stove as directed above.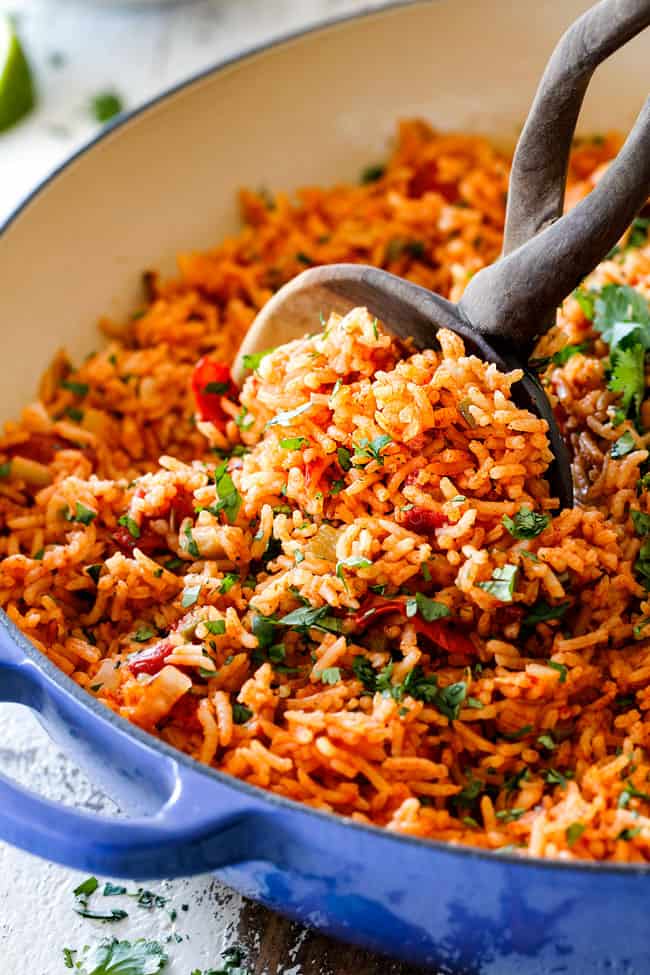 WHAT TO SERVE WITH EASY MEXICAN RICE?
There are so many main dish Mexican staples that all need this easy Mexican Rice recipe!  I could list everything in my Mexican Recipes Section, but I'll spare you and let you look at the photo index yourself.  Here are just a few of my favs that pair beautifully with this Mexican Rice:
CREATIVE WAYS TO SERVE MEXICAN RICE RECIPE
This Mexican Rice recipe can be served as a simple side or added to all sorts of dishes/ingredients. Let your imagination run wild! Here are a few serving:
Main dish side.  Serve Mexican Rice alongside your favorite Mexican protein and let  it  be the talk of he plate.
Burritos: Layer a burrito size tortilla with Mexican Rice, protein, guacamole, sour cream and lettuce.  Serve with additional sour cream and either pico de gallo or homemade salsa.
Wet Burritos: Layer each burrito size tortilla with 1/4 Mexican Rice, 1/4 cup black beans (if using refried beans, layer first), 1 tablespoon sour cream, 1/3 cup chicken/meat, and 2 tablespoons cheese (more or less of each to taste) down the center of the burrito.  Roll up tortillas burrito style, and place on lightly greased foil on a baking sheet then lightly brush burritos all over with olive oil.  Bake at 400 degrees F for 15 minutes or until lightly golden then remove from oven. Fold sides of foil up around burritos (to keep sauce from escaping) and evenly pour red or green enchilada sauce over burritos then evenly top with one cup cheese. Bake an additional 5 minutes or until cheese is melted.  To serve, top burritos with desired toppings.
Burrito Bowls: Layer Mexican Rice with cheese, chicken/beef/pork chopped lettuce, and your favorite toppings including crushed tortilla chips and either sour cream/Greek yogurt.  For extra YUM, serve with avocado crema,  cilantro lime dressing or tomatillo avocado  ranch.  
Stuffed Peppers: Slice the tops off of 6-8 bell peppers and remove the core/seeds inside. Rub the outsides with olive oil and line in a 9×13 baking dish. Combine seasoned ground beef with cooked Mexican Rice and spoon into each pepper.  Top with sharp cheddar then tent with foil.  Bake until peppers are tender, about 35 minutes. Uncover and bake until cheese is bubbly, 10 minutes more.  Serve with sour cream or Mexican crema, cilantro, cotija, etc.
HELPFUL TOOLS TO MAKE MEXICAN RICE RECIPE
Wide Pan:  this Le Creuset  Braiser is one of my favorite pans!  It is wide and shallow and perfect for cooking Mexican Rice or for stove to oven recipes or for large one-skillet dinners.  
Garlic press: I use this every single day!   It is the ultimate garlic press- it is easy-to-use, easy-to-clean and minces garlic with one squeeze.  Unlike other presses, this garlic press has beveled holes that finely cut the clove rather than bruising it, bringing out the best flavor.
Onion chopper: onions make me cry like crazy so I LOVE this onion chopper!   It's made with stainless steel discs for chopping/dicing the hardest vegetables/cheeses with 1 easy motion.  It's also backed by a lifetime warranty– and I can guarantee way less tears!