These tacos are the perfect light (yet filling) dish to ring in the new year with! They're packed with flavor, made with tons of healthy ingredients, and they're FAST to whip together. I'll share my favorite way to make shrimp tacos, but honestly, this shrimp is good enough to stand on its own — the seasoning mix is so delicious (while also remaining easy with few ingredients!)
What Goes In A Shrimp Taco?
While you can load up your taco however you'd like, we're obsessed with the easy slaw, sauce, and some fresh avocado (or guacamole) in these tacos!
Shrimp: of course this is a given! The shrimp is marinated for a bit in a delicious (easy) seasoning mix and some olive oil. Once it's cooked, drizzle over fresh lime and it's ready to go!
Slaw: this slaw is simply shredded green cabbage mixed with the simple cilantro sauce.
Cilantro Sauce: the sauce is multi-purpose: you'll toss the slaw with the sauce and then also add a drizzle over the finished tacos. Not only is it easy to make, you can also prep this ahead of time (up to a day in advance).
Fresh Avocado/Guacamole: you can make your own quick guacamole or grab some at the store. Otherwise, a few slices of fresh avocado works great too. The avocado gives these tacos a delicious creamy element while keeping them healthy.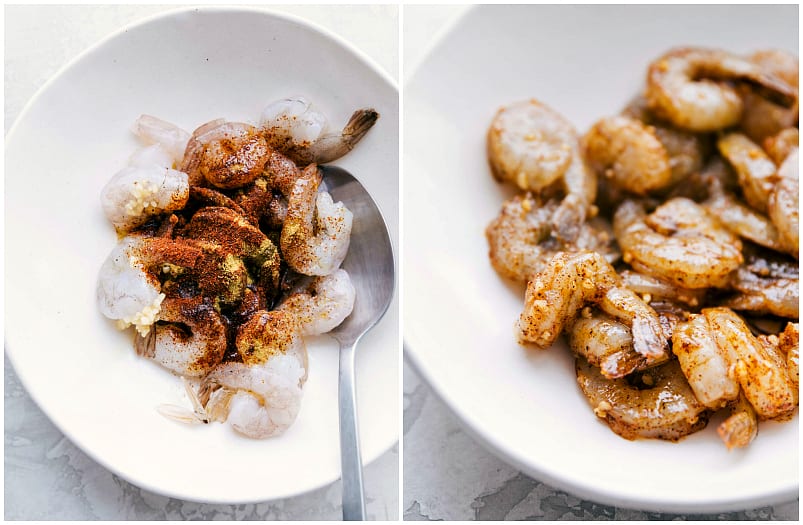 Now that we've talked about the components of these tacos, let's talk prep!
How Do You Make Delicious Shrimp?
Making delicious shrimp is all about how you season it and then cook it! This recipe has a killer seasoning mix and below I'm sharing some tips for cooking it.
A few tips for cooking perfect shrimp:
When shrimp is raw the flesh is a grayish color. As it cooks, the protein turns to an opaque whitish pink color. Shrimp cook VERY quickly – about 2-3 minutes per side – so don't take your eyes off of them while they're cooking.

The shrimp should curl up into a loose "C" shape when properly cooked. If they have curled up into a tight "O" shape, then the shrimp is most likely overcooked. (An undercooked shrimp will still have some grayish spots on them and form more of a flexible "U" shape)
Cook the shrimp very last for these tacos so the shrimp don't dry out while preparing the other components of this dish.

I recommend buying shrimp that's already been peeled and deveined to make this dish go faster and the prep to be simpler!
If you are using frozen shrimp, make sure to let it completely thaw out before putting over any heat.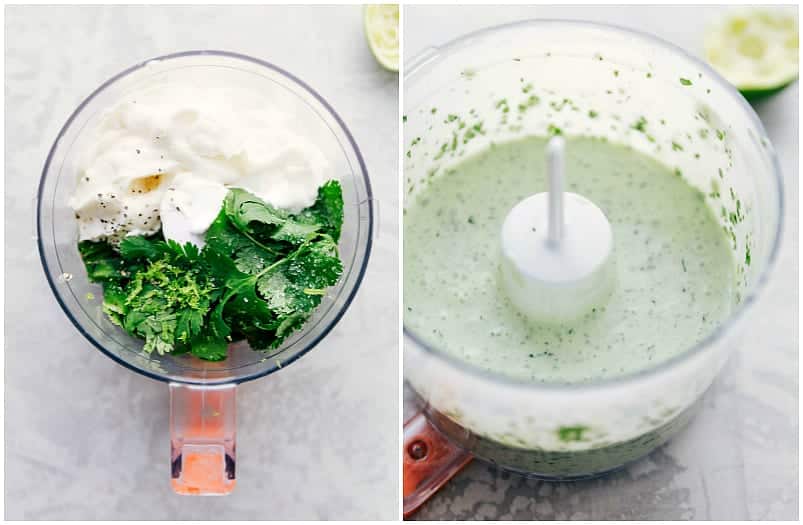 How Do You Make Shrimp Tacos?
The nice thing about this recipe is it comes together in 30 minutes or less. That said, if you're pressed for time you can prep pretty much everything in advance!
Start with making the shrimp: toss together the seasonings and add to the shrimp with some olive oil. This will marinate (minimum 15 minutes) while you prepare everything else. Make Ahead: you can have the shrimp marinating 4-6 hours in advance)
Make cilantro lime sauce: add all the sauce ingredients to a small powerful blender or food processor. Pulse to combine. Make Ahead: you can make this sauce up to a day in advance
Prepare other toppings: toss 1/2 cup of the sauce with shredded cabbage (make it even faster by buying a slaw mix at the store), prep some guacamole or slice an avocado, and char/grill/or warm the tortillas (optional).
Cook shrimp and assemble: the shrimp cooks in minutes in the skillet and then it's all about assembling: tortilla, slaw, shrimp, avocado/guacamole, and cilantro lime sauce. A squeeze of fresh lime and these are ready to be devoured!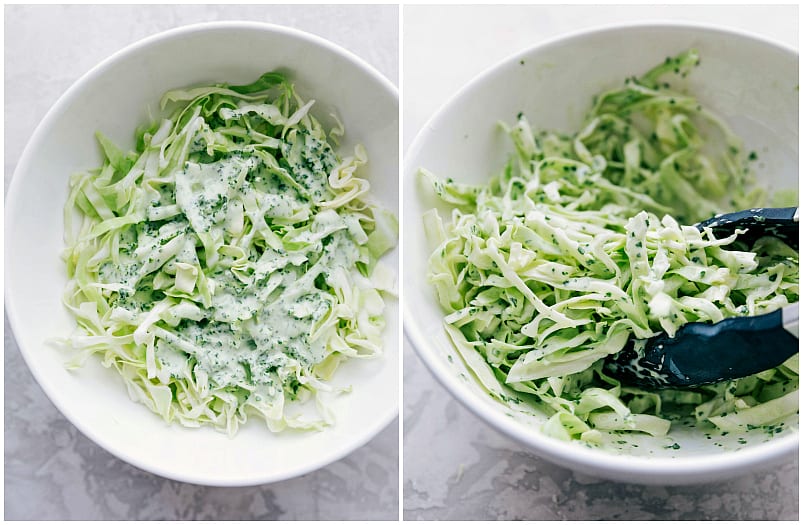 How Do You Make Shrimp Tacos With Mango Salsa?
Shrimp tacos pair beautifully with mango salsa, and these are no exception. This mango salsa is my all time favorite and would be delicious with these tacos. Either serve it on the side or add a spoonful to the top of your taco (omit the guacamole/avocado if you opt to add the salsa!)
While these stand on their own pretty well, here are a couple of quick side dish ideas:
What To Serve With These Tacos: